Introduction

We had lost our sense of adventure, mostly. With two small children packing the car and enduring road trip eventualities — soiled car seats, endless questions, whining — creates significant homebody inertia. Getting out, especially in the short, damp days of a Northwest Winter, was often just too much. We needed motivation.
Busy professionals with weak spots for childish competitions and games, one of us gifted the other a Washington State Parks checklist banner — thanks Etsy — for Christmas. The challenge was on, the game afoot. Visiting State Parks is a sizable reduction in both investment and payoff, from say, counting continents, countries or even National Parks. We had checked the map; done right we could probably do 5-7 parks some days. Our reward would be picnic shelters and boat launches not grand geologic formations and soul-stirring vistas. Playgrounds not postcards.
There are a lot of state parks in Washington State, 137 in all, and some not accessible by car. The good money would be on us not finishing this quest…and that's OK, its the journey we seek. In our pre-child mid-twenties, we once visited the Grand Coulee dam. We've been to the Mima Mounds, overnighted in Warnambool (twice) and weathered a typhoon in Toba. We are no strangers to long journeys with small payoffs. We've experienced – and enjoyed – being surrounded by retirees, RV people and empty parking lots. Though now we are two car seats strong and have a tiny collapsible toilet in the hatch. Adventure takes no universal form.

---
Progress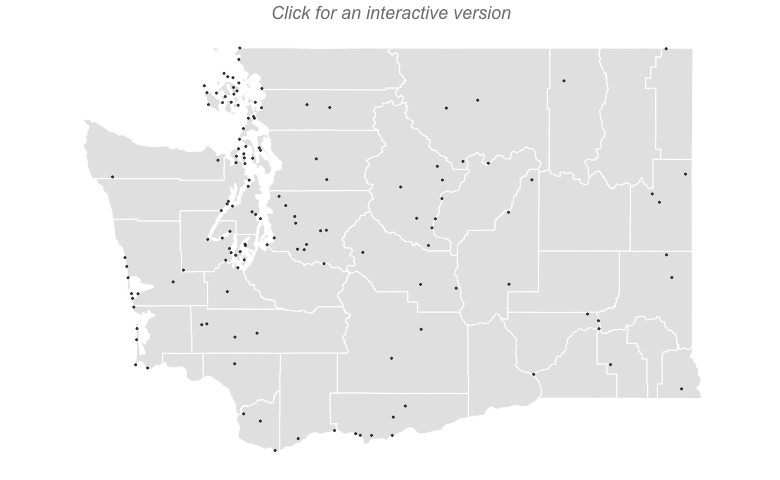 | Visited | Remaining | Total | % Done |
| --- | --- | --- | --- |
| 133 | 4 | 137 | 97 |
| Miles Driven | Miles Ferried | Miles Boated | Miles Hiked | Miles Paddleboarded |
| --- | --- | --- | --- | --- |
| 8153 | 114 | 285 | 96 | 7 |
---
---
by Andy Krause
andy@andykrause.com